It is no secret that there are still people in their seventies and eighties in the workforce, though fewer each year. Boomers are living longer than previous generations and they are also staying in the workforce longer. One of the consequences of this reality for employers is that there are now workforces made up of five generations: Traditionalists (1925-1945), Boomers (1946-1964), Gen X (1965-1979), Gen Y or Millennials (1980-1994), Gen Z (1995 -). Each group can be described as holding a set of values which has an impact on the workforce and workplace dynamics.
What should benefits managers understand about these generational differences?
What is crucial for benefits managers is to be aware of the wants, needs, values and priorities of each generation. Because they are at different stages of life, and belong to particular cultural and social cohorts, these differences are quite pronounced. So are communications styles, work habits, and expectations of their employers. This chart from ROHEI provides a good overview of the generational differences.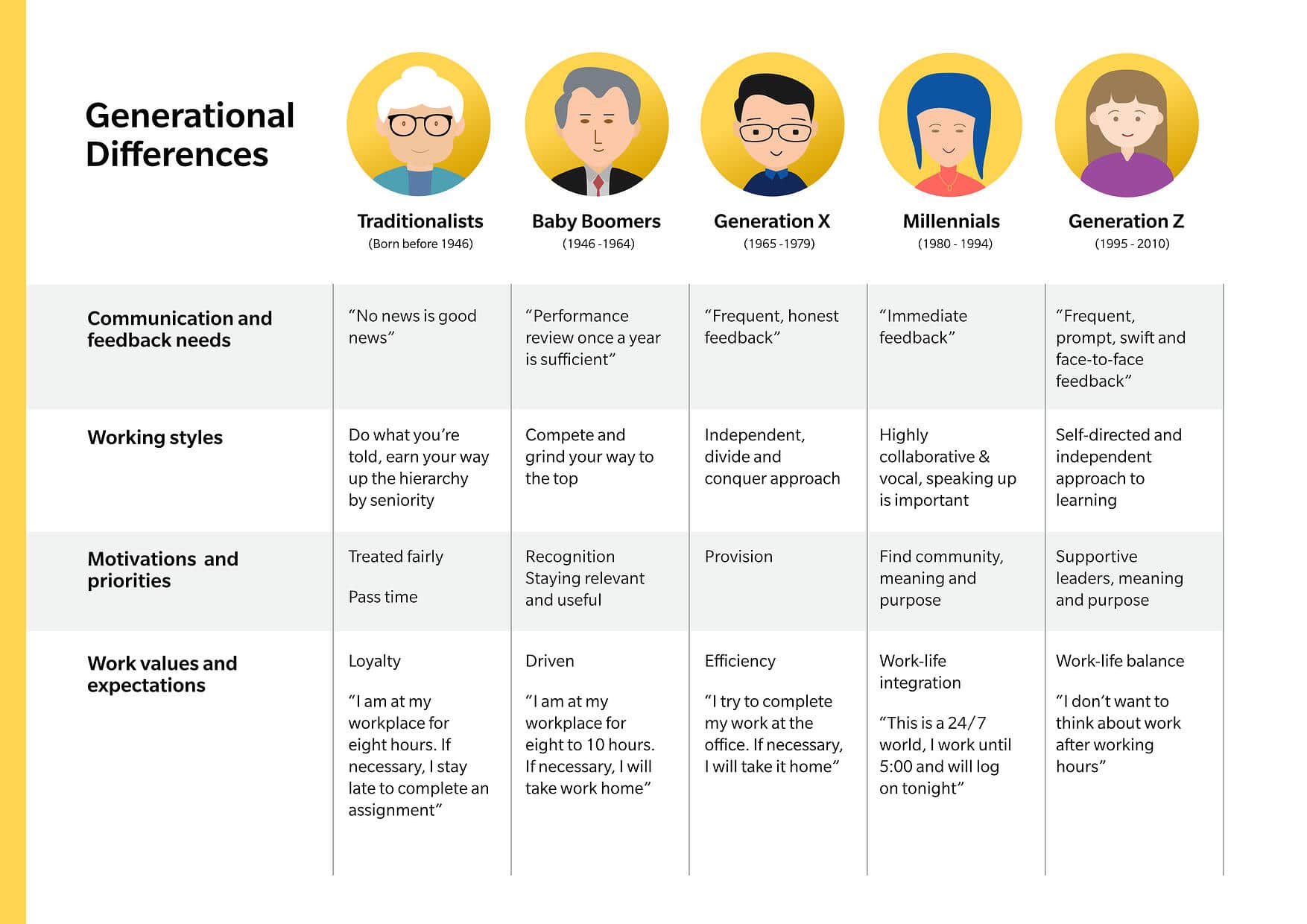 Their personal values and concerns are also different.
Traditionalists, who make up 2% of the workforce, value authority, seniority, top down management, and hard work. Their concerns are financial savings and retirement. Baby boomers, who make up 25% of the workforce, value hard work and fair play, and are also concerned about their financial savings and retirement. Gen-Xers are looking for "work-life balance" and efficiency. They are often called the "sandwich generation" because they might be caring for aging parents and young children.
Millennials are now approximately 50% of the workforce, and they have been raised in technology boom. They are focused on goal-setting, flexibility, and achievements. They are concerned about paying off debts, mental health, and costs which stem from childcare. Finally, Gen Z individuals, who only make up 2% of the workforce, are very savvy with technology and have only ever known digital solutions. They are at the beginning of their careers and are just beginning to take their financial management seriously as they seek to pay off student loans, address mental health, and maintain physical health. They are looking for professional development opportunities too.
Communications and Common Sense for Benefits Managers
Employers have lived though a lot of flux and change through the pandemic, and on top of that, they are endeavouring to recognize the diverse needs, values, and expectations of their multi-generational workforces. Studying their employees, and getting feedback about their benefits, priorities, and concerns, will help managers design better plans. Surveys, questionnaires, and other tools can inform managers about the life challenges their employees are facing which affect their benefits needs. Common sense would suggest that older employees have different needs when it comes to eye care, and dentistry. Younger employees likely have childcare needs. Getting to know their employees and finding ways to have genuine dialogue with them will serve managers well in achieving a happier workforce.
At Health Risk Services, we closely follow industry news to see how changes in the workplace and the wider culture are affecting Employers and Employees. We help our clients find the right benefits solutions for their multi-generational workforce while maintaining sustainability and retention of their valued employees. We would like you to know more about how Health Risk Services can assist you with a 2022 plan to address a multi-generational workforce, so please schedule a Complimentary Consultation with us.
At Health Risk Services we will Empathize, Educate, and Empower you and your team in 2021!
To schedule your Complimentary Consultation with Health Risk Services, please call 403-236-9430 OR email: [email protected]